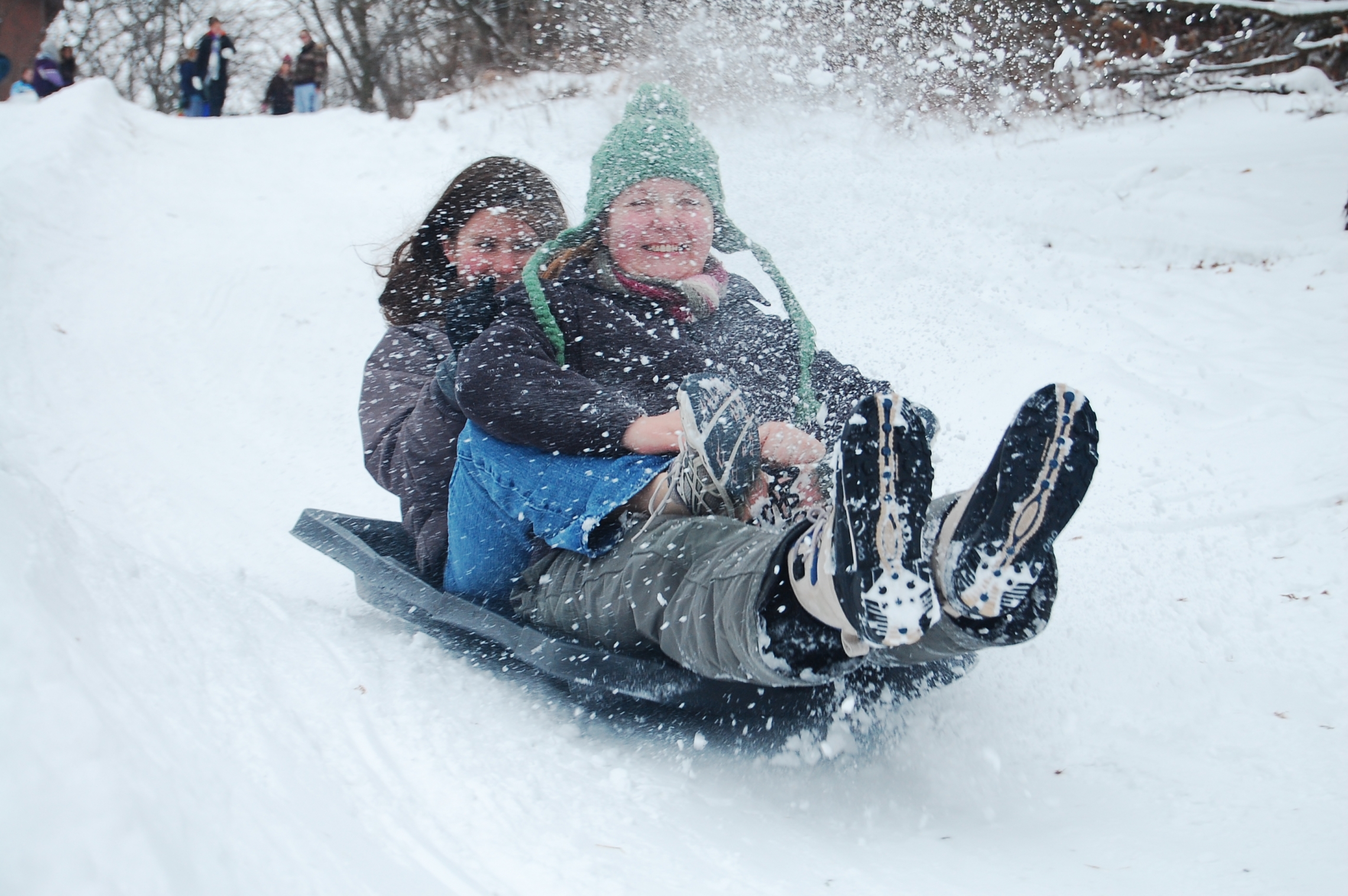 Our Winter Explore Days provide an opportunity for your camper to get outside* and explore what camp has to offer in the winter!  So put on your warm layers and gather by the fire as our activities will keep you outside, moving and toasty!  If there is snow we will be sledding and playing in the snow.  Bring your own sack lunch to enjoy inside our dining hall*.  
*Winter Explore Days programming will follow Covid 19 Precautions.  Please see below for more information.
Weather Responsive Fun
Bundle up and show the outdoors who is boss!
Warm Up
Indoor distanced activities will happen to stay warm.  
See Camp
Winter at camp is a beautiful and unique time.  
Example Schedule:  Activities and times will be modified based on weather.   
9-9:30 Check in and Welcome
9:30:  Hike 
10:30: Construction Challenge (Indoors, Masked+Distanced)
11:00:  Gaga and campfire
12:00: Lunch in the Dininghall (HUGE bubble and windows open)
12:30: Group Storytelling (Indoors, Masked+Distanced) 
1:30:  Sledding (weather permitting, followed by brief indoor warm up)
2:30: Archery (followed by brief indoor warm up)
3:30: Natural Play Area
4:30-5: Check out and Goodbye
What to Bring/Important Information
Sack Lunch
Cloth Face Covering/Mask
Water Bottle
Backpack for the above and additional layers
Warm Gear
The key to staying warm in the cold is wearing layers that can be adjusted throughout the day as temperatures change.  Most layering can be thought of as three types:  Base layers are worn close to the skin and mainly provide insulation.  Mid Layers are worn over the base layer providing additional insulation and some limited wind or weather resistance.  Top layers or shells provide weather and wind resistance and some additional insulation.   We recommend:
Top: At least three layers, but even more may be beneficial.
Long sleeve thermal undershirt
Long sleeve T-Shirt
Heavy Sweatshirt or fleece jacket
Winter Coat (should block wind)
Head:
Warm hat that covers the ears
Scarf or ski mask to cover face and neck (in addition to cloth face mask covering)
Hands and Feet:
Warm heavy socks
Winter Boots
Warm Gloves
Bottom: At least three layers
Tights or long thermal underwear (base layer)
Jeans or Sweatpants (mid layer)
Snow Pants  (top layer)
Groups will be limited in size
Groups will operate as cohorts, not interacting with other groups at camp
All staff and participants will wear a cloth face covering at all times
Individuals within groups will stay distanced of 6' or greater while indoors
Majority of programming will be held outdoors with adequate opportunities for staying warm provided
Meal time will happen one cohort at a time in our heated dining hall with increased ventilation and huge bubbles between individual
In order to be as safe as possible, many activities at Winter Explore Days will happen outdoors.  Programming will be arranged to keep campers warm through movement, protection from wind, heat sources, and breaks indoors with their cohort. 
Winter Explore Days will be cancelled and fees refunded if weather looks to consist of dangerously cold temperatures, excessive wind or ice, or freezing rain.   Some weather conditions, such as fluffy snow, will enhance our fun.  
Campers are encouraged to pay close attention to the what to bring list to ensure comfort.  Additional layers are available at camp as needed.  
Check In: 9-9:30 AM
Check Out: 4:30-5 PM
2021 Dates