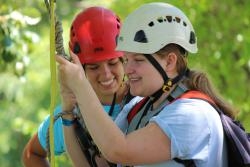 You and Me Parent Child Weekend provides an opportunity for Mom or Dad to reinforce the parent and child bond and connect with other parents and children. Throughout the weekend Parent and Child pairs can choose activities from our program that best fit their interests, while enjoying quality time with one another. Life can be hectic. Take some time to just be together and let us worry about creating the fun and the food!  
Make Memories
Spend some extra special time with your child doing camp activities together!
Choose your Path
Choose from a menu of options and meet camp staff for guided activities, or head out as a pair on self led adventures!
No dishes!
Go camping and let us handle the headaches, all your food, lodging, and clean up is included!
Throughout the event, Camp Kitaki staff will provide you with activity choices to appeal to a wide range of interests and abilities. Eager to become an archery pro? We are ready to help. Want to work with clay? We've got you covered. Just want to hike around camp at your own pace as a family? Go for it! All meals are included so you don't have to worry about cooking or dishes. Check-in will take place from 9-9:45 on Saturday, and we will wrap up at 1:00 on  Sunday following our closing lunch. 
Shooting Sports: Move beyond the basics! You'll have the chance to shoot archery, throw hatchets, and learn what an atlatl is and how to use it! 
Climbing Tower: Try your hand at climbing to the top of our Tango Tower!
Zipline: Take a thrilling ride on our 300+ ft. long zipline (weather permitting-ages 10+)
Outdoor Cooking: Learn some simple campfire cooking meals!
Crafts: We will have different craft projects including clay, painting, flower pot decorating, and traditional camp crafts for all ages available.
Survival Skills: Start a fire, build a shelter, learn knife safety, and more!
Construction Fun: Cardboard, blocks, legos, marble mazes, combined with a bit of creativity.
Nature Hikes and Birdwatchin: All 210 acres of Camp Kitaki are at your disposal. Discover the secrets of Refrigerator Gulch or look for wildlife along Whitetail Run. 
Camp Favorites: like Ga Ga, Carpetball, and Fort Pawneee (our Natural Play Area)
These are just a few of the many adventures you'll be able to choose from throughout the weekend! 
You'll have the chance to bond not just with your camper, but also with a cabin group!. Female-identifying adults and campers will be lodged together, male-identifying adults and campers will be lodged together, and mixed gender pairs will be housed in individual rooms within one of our lodges. All of our lodging is heated, air-conditioned, and restrooms are located inside each cabin.   
$120 per pair (adult and child age 6-13). The goal of this event is to create one on one memories between a parent and a child. We understand that there are some cases where bringing another camper along is an option our families might like to have, so it is $70 for each additional child (age 6-12). Fees include meals, lodging, supplies, and activities.